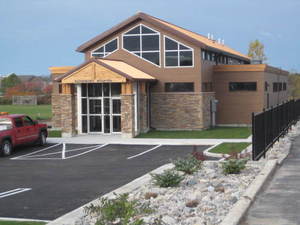 Our Patients:
Dogs
Cats
Exotics
Rabbits
Ferrets
Reptiles
Parrots and Caged Birds
Rodents – Hamster, Gerbils, Rats
Amphibians
In 1995, our building was renovated from the Culligan Water warehouse to a comfortable facility. In August 2011, we moved into this new building which was built right behind the old one. Our reception room has a welcoming atmosphere, complete with an entertainment area for children.. We have two exam rooms, a consulting room, a full laboratory, pharmacy, library, treatment area, an intensive care unit, full surgical suite, x-ray room, dental suite, washrooms, as well as laundry facilities and offices. Throughout our clinic we have incorporated surface areas that are designed to allow disinfecting solutions to easily sanitize floors, kennels, cages, counter tops, lower portions of walls, and exam tables, helping make them impervious to viruses and bacteria. Feel free to ask for a tour. We do give fully guided tours that last about 20-60 minutes, depending of the group's need. See the tour section under additional services.
Accreditation:
The licensing body for veterinarians in our province conducts regular on-site inspections of our premises. This process is designed to protect you and your pets and ensures that our facilities meet specific standards including equipment requirements, proper patient record-keeping, safe drug storage, medical reference library and orderly and sanitary premises. Meeting these standards can require significant investments in time and money.