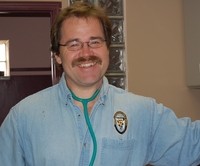 Dr. David Heubner founded the practice in 1993, after practicing mixed animal veterinary medicine in the Mitchell-Monkton area. He graduated from the Ontario Veterinary College in 1989. He is constantly seeking new ways of improving our level of veterinary care.
He is very interested in the field of veterinary dentistry and takes workshops and seminars annually in order to stay on top of this rapidly advancing field. He also enjoys surgery, both soft tissue and orthopedic. His newest main fields of interest are Hip Replacement and TTA, a technique known as tibal tuberosity advancement. Dr. Heubner also performs endoscopy ,laser surgery, and ultrasound.
David shares his house with Carol Hazen, our practice manager. They have three children. When he is not busy with veterinary medicine, he enjoys cooking, biking, kite-boarding, sking, playing the piano and woodworking.